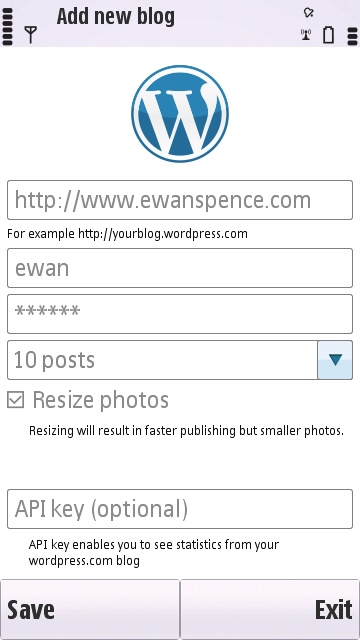 It s a whole new WordPress for a whole new platform. WordPress for symbian is now optimized to take advantage of the symbian new firmwares, making blogging even easier than ever before. WordPress for Symbian is an Open Source application that empowers you to write new posts, edit content, and manage comments with built-in notifications.
WordPress for Symbian supports both WordPress.com and self-hosted WordPress (2.7 or higher) blogs.
Changelog:
Blog settings Save button did nothing if network configuration was invalid or unavailable. Fixed to show error message.
· On Symbian WordPress logo had extra border.
· Small fix related to adding images and videos.
· Few other small fixes related to error and warning dialogs.
New features:
· Should work now with http authenticated blogs.
Download :
WordPress v0.8.6 S60v3 v5 S^3 SymbianOS9.x SelfSigned {Blogging Even More Easier}